Das Water Technology Co., Ltd.
Das Water Technology Co., Ltd. located in Zhengzhou, Henan, China. Our company specializes in designing and producing water purification equipment, air purification equipment, health care water treatment equipment,intelligent household appliances product etc.Our company has a reputation for advanced technology as the core competitive power of science and technology, through ten years of technology accumulation and the number of research institutions and manufacturers at home and abroad sincere cooperation, introduced circulating water tech,7.8hz low frequency molecular resonance tech, hydrogen tech, clean water tech, instant heating tech, air purification, quantum water, remote infrared and negative ion tech etc. Developing advanced drinking treatment systems and many innovative products, we applied a number of national patents, one the leader of domestic high-end water treatment equipment products.Our products have been exported more than eighty countries around the world and received affirmation and praise from global consumers. We always uphold the business philosophy of Integrity, innovation and mutual benefit, pursue perfection of the products, attentively service for the user, a starting point of user experience to protect your family's health.Our brand (DASWATER) business philosophy and objectives is: "Drinking healthy water to have a good body and happy life "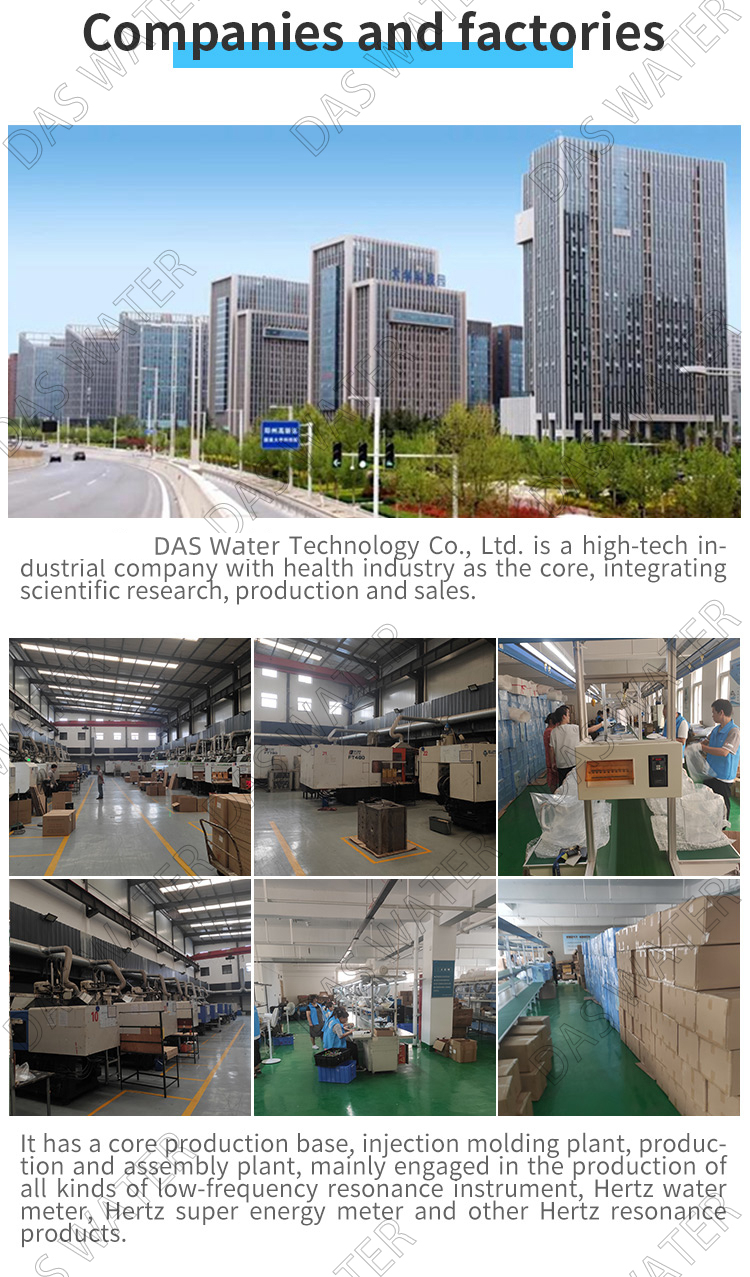 Das Water is a diversified health company focusing on low-frequency Hertz resonance water treatment technology. It has its own brand and corresponding technologies. It has a number of joint-operated molding plants, core polymer plants, and assembly plants. The National Operation Center of Low Frequency Hertz Resonator has been established in Zhengzhou, China, dedicated to the development and application of Hertz low frequency resonance water technology. In 2018, the low-frequency Hertz resonance instrument was launched nationwide, and we are looking for agents at the county, city, regional, and provincial levels nationwide.
Das Water has been based in the low-frequency hertz resonance water market for 6 years, providing a variety of mold design, custom development, and OEM/ODM production cooperation. Chinese dream, healthy dream. Das Water low frequency resonator, a great era has arrived.